T.L.C. SUPERMALL
Our Mall was originated by a company orchestrating fundraisers for non-profit organizations on college campuses, and has been in business since 1999. As a wholesale reseller, we quickly moved to the web for
your shopping convenience. We are proud to offer thousands of gift items in our online catalog, such as pewter goblets,mythical dragons,eagle statues,indoor fountains,decorative candles,golf novelties,glass ornaments,curio cabinets,african american figurines,wildlife sculptures and many more.

If you have any questions about any of the items that we sell, please feel free to contact us at any time.
We are totally committed to keeping all of your personal information private and secure. All of your information is safe with us. The bottom line is, this site has security measures in place to protect your personal and credit card information during the ordering process. The information is submitted through a secure server and is kept safe until retrieved by our billing department. In plain English, your information is safe with us. We will not give,
sell, or trade your information with any person, company, or entity at any time now, or in the future.

Please click on our catalog link located on the left-hand side of this page
to view over 100 categories which contain thousands of gift items.
| | | | | | | | | |
| --- | --- | --- | --- | --- | --- | --- | --- | --- |
| | | | | | | | | |
Check Out Our Featured Products!!!


With gold-plated accents and "crystal" eyes, these dolphins caper in the waves upon a fluted base of ocean blue.
Spun glass.
2 3/8" x 3" x 4 1/4" high.
$14.95


Delicate flowers and a graceful hummingbird make a lovely spun-glass figurine. The leaves and beak are
painted with gold.
4" diameter beveled mirror base included.
3 3/4" x 3" x 4 3/4" high.
$19.95


Holding a lovely rose, this spun-glass angel is resplendent in heavenly
hues and
touches of gold.
3" diameter mirrored base.
3" x 1 3/4" x 4" high.
$14.95
Howling at the sky on a sun-lit,
snow-covered hill, the wolf
on this alabastrite wall plaque
will make a statement
anywhere it is placed.
6" x 1/2" x 7 7/8" high.
$12.95

It's all in a day's catch for
this bear, who has successfully
landed a fish mid-stream.
Wall plaque is constructed
of alabastrite.
6 1/2" x 1" x 8" high.
$12.95

Closely watched by a magnificent mythical green dragon, Merlin peers into a crystal-like ball in order to foretell
the future.
5 1/4" x 4 1/2" x 5 5/8" high.
$15.95


Reminiscent of sea-weathered driftwood and embellished with a lighthouse design, this wall clock is perfect for den or lanai. Alabastrite.
13 1/4" x 2 1/4" x 18 1/4" high.
$29.95


A griffin, in all its
stone-finish alabastrite majesty, will add
a mystical touch to
your garden.
4" x 6 7/8" x 6 3/4" high.
$9.95

Shells appear to float inside this decorative candle as it emits a distinct oceanic scent, bringing the essence of the sea to your home.
3 1/4" diameter x
3 1/4" high.
$7.95


Ginger-lily is the scent
of this pillar candle
which is reminiscent
of a grassy field.
3 1/4" diameter
x 3 1/4" high.
$7.95


Add a touch of spring to your table any time of year with this freesia-scented, palm oil wax, butterfly-and-flower decorative pillar candle.
3 1/4" diameter x 3 1/4" high.
$7.95


This scented, "orange delight" candle is inset with real orange slices and gives off a
lovely glow.
3 1/4" x 3 1/4" high.
$7.95


Reminiscent of bamboo
canes, this indoor tranquility
fountain comes
complete with
decorative stones
and a UL-approved pump.
12 1/2" x 12 1/2" x 11 1/4" high.
$74.95


An English garden's Victorian cherub birdbath inspired this charming objet d'art. It's crafted in alabastrite with an antiqued stone finish.
6 1/2" x 5 3/4" x 11 1/2" high.
$17.95



The ageless look of
mountain rock
is the focal point of
this indoor serenity
fountain. A fine piece to
add calm to
your office or den.
11 5/8" diameter x 8 1/4" high.
$49.95
The hand-applied birds, apples, and leaves of this glazed, ceramic vase recall the classic creations of late-19th century
majolica craftsmen.
8" x 12 3/4" high.
$39.95

Welcome guests to your garden in a rustic manner with this appealing, rusted-metal art piece.
12 1/2" x 8 3/4" high.
Stick is approximately 28" long.
$9.95

The distinctive pomegranate on this majolica-style vase is the resting place for a colorfully hand-painted bird.
10" x 8 1/2" x 10 1/2" high.
$34.95


A charging elephant is trumpeting his unquestionable dominion. He is covered in an extravagant safari Patchwork print fabric with a highly lacquered finish.
13 1/2" x 6 1/2" x 10 1/2" high.
$37.95


The popular Majolica-like style is once again in evidence with the presentation of this stately steed, decked out in all its finery. The "crackle-look" of its surface adds an antique look.
14" x 5 1/2" x 15 3/4" high.
$49.95


The essence of speed is displayed in the pose of this safari Patchwork cheetah as it runs its prey to the ground.
11 1/2" x 4 5/8" x 8 1/4" high.
$24.95

An eagle poised to catch its prey is the theme
of this glazed-finish collector's plate.
Wrought iron stand included.
9" diameter.
$9.95


Wild and unbridled, these magnificent steeds glory in the freedom of being unencumbered by the bondage of man. Classic Wildlife Collection.
15 1/2" x 6 3/4" x 7 7/8" high.
$69.95

The classic, porcelain "ginger jar" shape is adorned with a tranquil, blue-willow-style lake scene.
6 1/2" diameter x 12" high.
$19.95

Stylish Patchwork serenity vase with Chinese and
English characters.
A lovely porcelain piece for
your table.
6" diameter x
9 1/2" high.
$24.95


A full-color portrait of a mountain lion adorns
this exceptional collector's plate
with long-lasting glazed finish.
Folding wrought iron stand included.
9" diameter.
$9.95


Bessie and her brood are ready to serve you tea! Includes cups, saucers, pitcher,
sugar bowl, and creamer.
Porcelain.
Teapot measures
7 1/2" x 8 1/2" x 7 3/4" high.
Set of 13.
$44.95

For the avid golfer
who never wants
to miss a tee time,
this alabastrite
clock is just
the thing.
4 1/2" x 3" x
6" high.
$24.95

Even though this frustrated golfer has hit a momentary streak of bad luck, we know he'll be back playing again tomorrow.
4" x 3 1/2" x
7 1/4" high.
$14.95

Be Sure To See Our Product Catalog!



Add an old time traditional flavor to your teddy bear collection with this charmer.
8" x 8" x 10" high.
$11.95



10K gold "Mom"
onyx diamond ring
(12 x 6mm,
.50 carat TDW).
Ladies sizes
5, 6, 7, and 8.
$59.95


Readin', writin', and 'rithmetic are all the subjects of the day! Sturdy wood construction. Extra features include an abacus and a clock with moveable hands. For ages 3 and up.
10" x 1" x 7 1/4" high.
$9.95



10K gold diamond "DAD" ring
(1 point TDW).
Mens sizes
9, 10, 11, and 12.
$149.95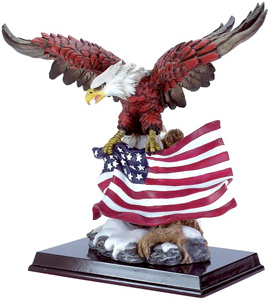 Clutching the sacred symbol of freedom in its talons,
this stately eagle statue is the epitome of liberty.
Wooden base.
11 1/4" x 5" x 9 3/4" high.
$39.95